DJ Drew Diggle
DJ in Raleigh, North Carolina
DJ Drew Diggle is a DJ in Raleigh, North Carolina. You may have heard him spin at Neu Romance, where he was a resident DJ playing almost every Sunday at the original Kings Barcade from 2003-2013. He plays regularly at many other public and private parties and special events in Raleigh, most notably at Halloween and New Year's Eve parties from 2010 to 2018.
▶ View a small selection of flyers from previous DJ Drew Diggle special events.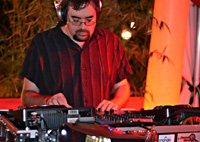 Drew Diggle has been working with digital music and music production since 1985, and has been DJing since 1998. Drew learned how to DJ on a friend's Technics turntables, and later applied those skills to CD-J and digital DJing.
DJ Drew Diggle was given his name by DJ Madcow, Chico Scott of Neu Romance. DJ Drew Diggle (Drew Davidson) is occasionally known as DJ Drew Davidson, or just DJ Drew for casual/local events in Raleigh.
Drew spins many different kinds of music, depending on the event and the crowd.
lounge / art gallery jazz
funk & soul
danceable pop of the 70s/80s/90s/00s/10s/20s
70s classic disco
70s/80s/90s/00s nostalgia
up-to-the-minute party dance pop, hip hop, remixes and mashups
deep house / funky house / tech house
classic dub & reggae
breaks and nu jazz
melodic drum n bass
and more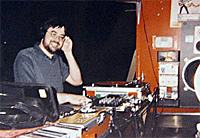 DJ Drew Diggle has played at many different types of event, such as:
New Year's Eve parties
Halloween parties
art openings
corporate product presentations
charity events
music festivals
theme parties
private parties
birthday parties
wedding receptions
event afterparties
costume balls
weekly, monthly and yearly events
special events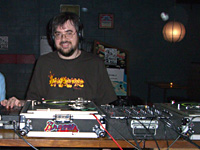 In addition to the above, DJ Drew Diggle has DJed at many of the opening parties of the Mosaic Spring Music Fest and Mosaic Fall Music Fest, as well as at dozens of after-parties and special events for the Carolina Roller Girls starting with their inception.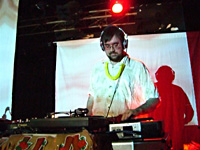 In addition to regularly DJing at the original Kings Barcade location on McDowell Street and Alibi Bar, DJ Drew Diggle has had guest DJ spots at dozens of Raleigh area bars, restaurants, and art galleries for over 20 years, including at several historic Jazz Anew and Bickett Gallery events.
Given advance notice, DJ Drew Diggle can provide a customized music selection for virtually any type of event. DJ Drew Diggle is a full mobile DJ and can provide an appropriate sound system as well. Please Contact DJ Drew Diggle for more information.
▶

DJ Drew Diggle Facebook page
▶

Neu Romance Facebook group
▶ Contact DJ Drew Diggle